Updates
Co-Design methods to explore stakeholde values – a new short film from Pharma Factory

19th May 2019


In addition to advancing PMP technologies, a core aim of Pharma Factory is to understand their value to a variety of stakeholders. Stakeholder engagement is being explored jointly by St Georges' University of London (SGUL) and University of the Arts London (UAL) as part of work package 2.

In early 2019, design researchers from UAL designed and facilitated bespoke co-design workshops involving participants from Pharma Factory SMEs and academic institutions to understand how they perceive the value of the new technologies to a range of stakeholders.

The co-design methods used are presented in this new short film, which explains their purpose and relevance to the broader project.

For more information please contact Alison Prendiville

a.prendiville@lcc.arts.ac.uk
Pharma-Factory attends the High Value Chemicals from Plants Meeting
1st October 2018


Sebastian Fuller (SGUL) and Alison Prendiville (LCC, UAL)

presented

Pharma-Factory: A framework for public engagement and co-design for plant molecular farming

at the High Value Chemicals from Plants (HVCfP) annual meeting on 1 October 2018 at the Royal College of Physicians in London. The meeting was attended by over 80 delegates from academic institutions and industry across the UK, and included 20 speakers on topics varying from initial insights from proof of concept studies to understanding the commercial value and impact on the market of developed products using plant molecular farming technologies.

The HVCfP network aims to:
Identify high value products from plants and optimise their production in plants or alternative production systems
Provide leadership to address key technology challenges which currently limit the utilisation of high value chemicals from plants
Develop the UK as a leading producer of high value chemicals from plants
View the slides from our presentation >>>
Pioneering plant technology unveiled at the London Design Festival
18th September 2018
Pharma-Factory researchers have been closely involved in work that is being presented at the London Design Festival. 'Plant Designer' showcases the state-of-the-art technologies involved in plant molecular farming, which uses engineered plants to produce large quantities of molecules for uses including medicines, diagnostics, vaccines and cosmetic products.
Sebastian Fuller says, "Plant Designer will be a place for festival goers to explore their views and opinions of this new technology through play."
Julian Ma adds, "Events like this show our commitment and continuing involvement in European collaborative research. While there is uncertainty for the immediate future, we all hope that in the long-term Brexit will not compromise UK science's ability to engage with our European colleagues."
Kick-off meeting
at the University de Rouen, France
May 2018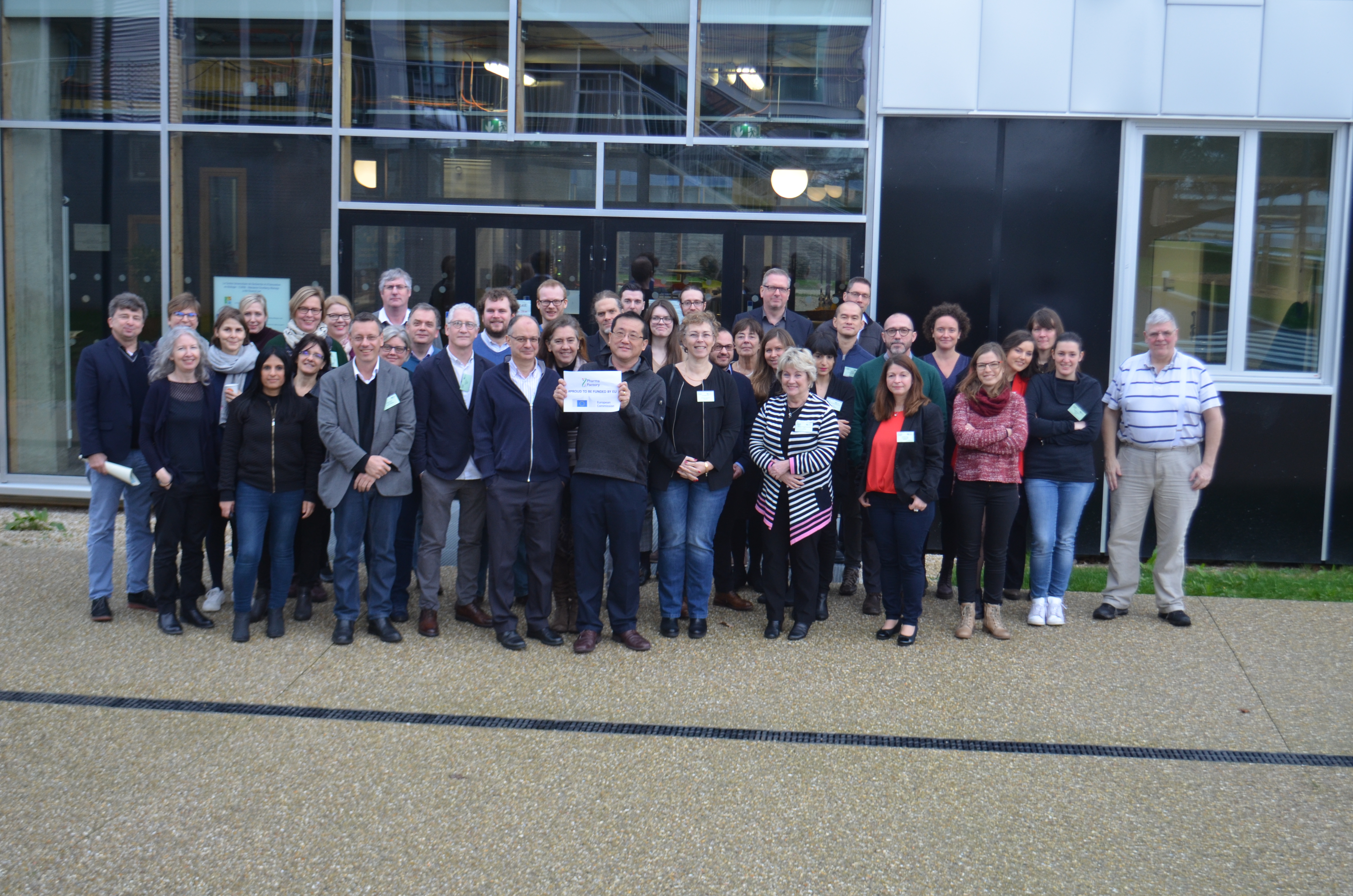 Pharma-Factory held its inaugural meeting in Northern France, January 23rd – 24th 2018, hosted by Professor Muriel Bardor. The meeting provided an opportunity for partners to discuss their background research, plan early work between the SME and academic partners, and form new ideas. The meeting was also attended by Isabelle van Borm, EC project officer for the Pharma-Factory consortium.
This project has received funding from the European Union's Horizon 2020 research and innovation programme under grant agreement No 774078.


Pharma Factory copyright 2018