Delivering new and innovative high value products using plant molecular farming.
14 partners, 7 countries,
5 SMEs, 3 public research
institutions and 6 universities
About
Molecular Farming is the manufacture of high-value products using plant biotechnology.
Pharma-Factory is a research project conceived and designed by Molecular Farming companies, to advance medical, veterinary and diagnostic products. Two of these products will be marketed within the lifetime of the project, and all others will reach technological validation.
Pharma-Factory aims to maximize impact by engaging with all stakeholders from scientists to government and the public at large, developing new tools to facilitate communication, to help understand and reduce barriers to acceptance.
We will clarify the wider regulatory environment around Molecular Farming by engaging with relevant agencies regarding issues of generic importance to the field, whilst giving our SMEs an opportunity to more easily seek scientific advice.
14 partners from 7 countries, including 5 SMEs, 3 public research institutions and 6 universities, are taking part in the project.
Pharma-Factory's overarching objectives are to remove technical, regulatory and public acceptance bottlenecks that currently hinder the transition of Molecular Farming from the laboratory stage towards the market, foster innovation and raise competitiveness of Plant Molecular Farming SMEs, their platforms and/or their products and product pipelines.
Pharma-Factory is funded for 4 years by the European Commission as an Innovation Action under Horizon 2020.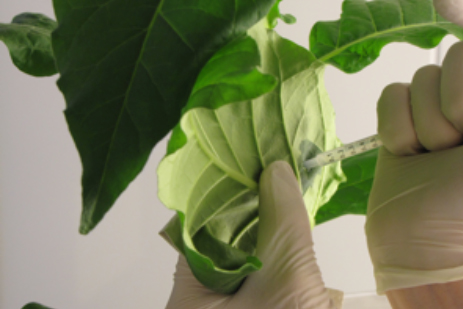 "EU-funded projects have made a fantastic international contribution to making plant-based pharmaceuticals a reality. This is reflected both in scientific excellence and the creation of numerous SMEs. The time is now ripe to realise the benefits of this investment through the commercialisation of plant-based products and it is the primary objective of the current project to achieve this."


Professor Julian Ma,
Pharma-Factory Co-ordinator
In Pharma-Factory, six different plant molecular farming platforms including whole plants, algae, hairy roots and plant cell culture will be developed by SMEs working alongside academic partners. These developments will lead to shortened production cycles and increased product yields, and ultimately lower product cost to the end-users.

Plant Molecular Farming platforms provide unique opportunities as a result of specific features of the expression systems.

The global market for bioengineered protein drugs was $172.5 billion in 2016 and it is expected to reach
$228.4 billion by 2021.




Future jobs: Pharmer

Professor Julian Ma from St. George's University of London describes the potential of Molecular Farming.





Molecular Farming
against AIDS

Professor Paul Christou from University of Lleida, Catalonia, Spain describes how Molecular Farming could make a difference in the fight against HIV.





Exploring data
visualisation for PMF
MA Data Visualisation students take on Plant Molecular Farming terminology (PMF)

One of the great benefits of the Pharma Factory collaboration between St. George's University of London (SGUL) and University of the Arts London (UAL), is the opportunities it brings to creative art and design to work in close proximity with science. In October 2019, recognising the need for clear definitions around some of the complex biotechnology terms and concepts used in the project, design researchers from UAL began to compile a glossary from scientific literature and invited Pharma Factory's scientific partners to co-edit the document. When the possibility arose to run a collaborative project with the MA Data Visualisation (MA DV) course at London College of Communication (UAL), the glossary offered an ideal opportunity for visual exploration.

The Glossary Project as it became known, was launched in January with ten MA DV students. As well as the usual design briefing the students were invited to visit the research labs at SGUL in Tooting, South London and attended a Q&A with Pharma Factory project scientists. Final presentations were given in March and the outcomes demonstrated an incredible grasp of the challenges presented in communicating PMF technologies to a range of audiences from children to those studying science and the public. To demonstrate the depth of the work we have selected some of the concepts for the Pharma Factory website but acknowledge that these need refinement for the purpose of scientific accuracy.

Dr Pascal Drake of the Institute for Infection and Immunity at St. George's supported the students with feedback on the scientific content of their work which was incredibly valuable for creating viable outcomes that now have potential for developing further in the project: "I was amazed at the sheer amount of work that must have gone into some of the projects - the amount of information presented was incredible, a brilliant resource."











Lecturer Ian Carr explains how the Data Visualisation students benefited from working with Pharma Factory researchers: "One key aspect is giving the students the opportunity to work with a live client and to engage with a subject that is new and unfamiliar. It's always encouraging to see how each student researches, collaborates and develops their project with a sensitive and considerate understanding of the topic. The vast variety of outcomes and approaches to the brief ranged from animations, physical games, interactive tools and educational websites. However, as a collaboration, the team excelled in sharing and challenging each other to become practitioners that are not afraid to ask questions, experiment, challenge conceptions and be bold."

For some students PMF was a challenging topic to engage with but also hugely rewarding as MA DV course leader Henrietta Ross commented: "This project involved engaging with what was, for many, the very unfamiliar territory of PMF and gaining an insight into the parameters, challenges and opportunities in this field. Visualising a glossary to key terms allowed the students to use and develop their research and collaboration skills and as well as their work with visual language, visual rhetoric and narrative. Working with the Pharma Factory team on this project has been both inspiring and productive and offered the participants opportunities to build on their experience and confidence as well as presentation and production and project management skills."

We now hope to find additional funding so that some of the students can develop their ideas into fully realized resources to help engender wider understanding of the value of PMF technologies.







---
The global market
for bioengineered protein drugs was $172.5 in 2016 and it is expected to reach $228.4 billion
by 2021.
This project has received funding from the European Union's Horizon 2020 research and innovation programme under grant agreement No 774078.
Pharma Factory copyright 2018
Terms of Service
Privacy Policy
Sitemap